Terry Butler was prying a radiator from a minivan in a scrapyard near Shanksville, Pa., on the morning of Sept. 11, 2001, when United Airlines Flight 93 flew low — "too low" — over his head.
With its powerful engines roaring, the wobbling plane crossed over Stoystown Auto Wreckers, climbed hundreds of feet into the sky and then plunged toward the treeline.
"It just flipped to the right and went straight down behind the trees," Butler said, "and it was gone."
Twenty years later, the sturdy, silver-haired man's eyes still filled with tears when he recalled the smoldering "mushroom cloud" rising from the spot where Flight 93 crashed down — and the earth trembling beneath his feet.
"I relive it every day," he said.
Butler has a tattoo of United Airlines Flight 93 below his left shoulder. First responders fill his forearms, and the name of each of the doomed plane's "40 heroes" line his brawny left bicep.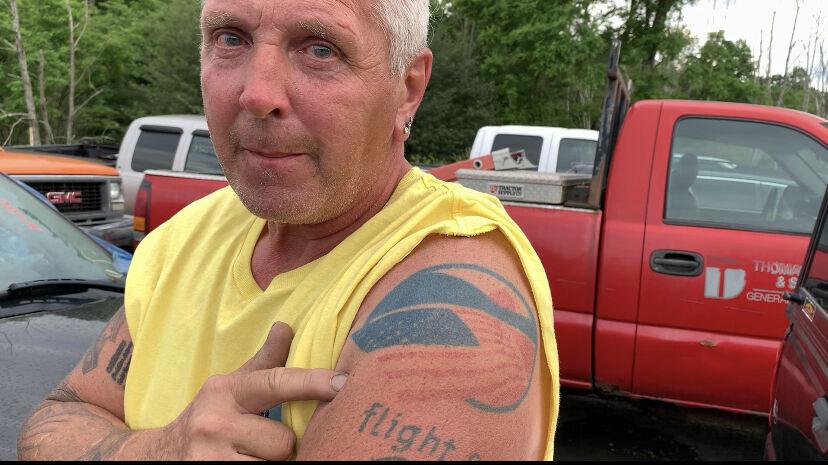 His sleeveless shirt reveals numerous tattoos that he said are there to make sure no one forgets that moment, the heroes or the lessons of 9/11.
"I had anger afterward ... like, 'Why did this have to happen?' " he said.
Butler got his first tattoo in 2003. It was an early logo of the Flight 93 memorial that showed an American flag draped over rolling fields with a sunset behind it. Over the years that followed, he had each passenger's and crew member's name inked to his left arm.
"It comes down to 'the 40,' the lives that we lost," he said. "They were the first ones to stand up and do something. They knew what was happening and they all banded together to do what needed to be done."