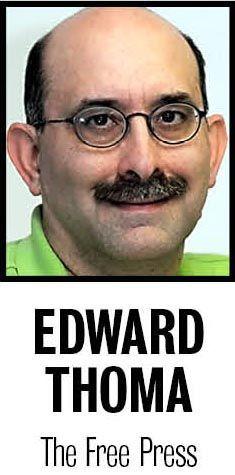 In physics, it's known as the observer effect: the theory that the mere observation of a phenomenon inevitably changes that phenomenon.
This is certainly true in baseball. Every major league game today — from the World Series tilts this past weekend to a drowsy mid-August getaway game between two also-rans — is different from the games I grew up with. They are played differently, managed differently, with rosters and lineups constructed differently.
Today's baseball is different because of Bill James, who in the early 1980s began self-publishing annual works called The Baseball Abstract. The Abstract, while largely ignored by the people running teams at the time, found an audience. That audience, armed with modern technology, grew up to do deeper research than James could do with paper, pencils and box scores in the 1980s, and eventually to run teams.
We talk of the grasp analytics has on the game today. Bill James invented that. He laid the foundation and blazed the trail.
James himself was eventually hired by the Boston Red Sox. While his specific duties and influence remain unknown outside of the Red Sox organization, he was one of the very few in Boston's baseball operations department to be there for all four of their World Series championships in this century.
Last week James, now 70, revealed that he is leaving the Sox' employ. Two years late, he said in his blog post; he is out of step with the organization and no longer contributes much. And he has other things he wants to do.
James' retirement from the Red Sox opens the door to something that doesn't happen often: His induction into the Hall of Fame.
I'm not referring here to the Spink Award, given annually as a career achievement honor to a longtime baseball writer. The Spink Award is often referred to as "the writers' wing of the Hall of Fame," but the winners are part of an exhibit on the Hall's top floor, along with the broadcasters given the Frick Award.
I'm talking about the plaque room on the first floor, the hallowed hallway that is what we mean when we say "the Hall of Fame."
There is one writer with a plaque in that room: Henry Chadwick, who among other things invented the box score, the "K" symbol for strikeouts and such statistics as batting average and ERA. Chadwick is a seminal figure in baseball history.
So too is James, who not only created new statistics but was peerless at explaining them, identifying not only what the numbers mean but what they obscure.
Why are there fewer bunts and steals in today's baseball than in the 1970s? Because James pointed out decades ago that those one-run strategies often serve to reduce run production. Why are 30-something players now finding the market for their services softer than in the past? Because James found decades ago that players typically peak at age 27 and decline rapidly in their 30s. Why are sinkerball pitchers largely passe today? Because James detailed that groundball pitchers typically have shorter careers and are less effective than power pitchers.
Those organizations that are best at decyphering the data and putting it to work are at an advantage over the others. Those that know more have always had that advantage, of course, but there is much more information available now than there was when James started his unique career.
James may be largely done with baseball (his last two books have been about crime), but baseball should not be done with him. He deserves Cooperstown induction.
Edward Thoma can be reached at 344-6377; ethoma@mankatofreepress.com; Twitter @bboutsider. He maintains a baseball blog at fpbaseballoutsider.blogspot.com.