In the hours leading up to a planned peaceful protest Tuesday night, faith leaders from churches across Claremore organized and gathered at Ne-Mar Shopping Center for a prayerful Racial Reconciliation Rally.
Real Life Church Pastor Kendrick Oakley and Destiny Life Church Pastor Glenn Shaffer led the rally as an opportunity to provide clarity and leadership through uncertain times. The backdrop was the riots and looting taking place in several US cities following the death of Minnesota man George Floyd.
"We believe, in moments like this, the church must have a voice," Oakley.
Shaffer started the evening with a call to be unapologetically prayerful, and to remember, "It's at the foot of the cross where everybody is the same."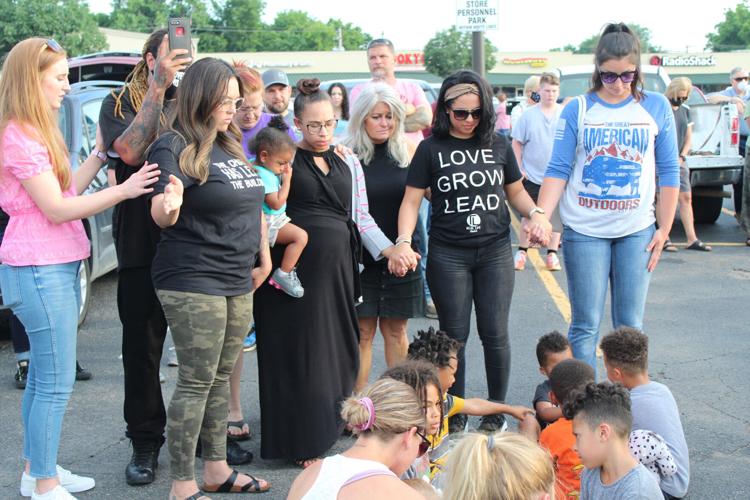 Addressing the crowd of around 50 gathered in the parking lot, "Our hearts are broken," Shaffer said. "We stand in solidarity. That is our protest, to stand together against wrong and against racial prejudice."
Shaffer said that when he came to Claremore at 25 years old, nearly 40 years ago, he noticed how small the African American population was in the city.
According to U.S. Census data, 2 percent of the Claremore population is Black.
Shaffer said he walked the streets and knocked on doors until an older gentleman invited him in and explained the city of Claremore's complicated racial history.
"We began to say, 'Lord, what do we need to do,' and over the years we have seen steps of reconciliation," Shaffer said.
However Shaffer said, those steps were not enough, and more listening is needed
"In all the stuff that is going on, I hear a cry. Underneath all of that, there is a cry," Shaffer said.
He encouraged the White members of the crowd to get on their knees if they were able, to listen with open hearts, and ask for forgiveness.
"Scripture said that Nehemiah, when he looked at the problems of his own city, he prayed in identification with the sins of his fathers," Shaffer said. "I am going to pray that prayer right now. And if you are Caucasian, and the Holy Spirit moves on your heart, I want you to be real."
In asking people to seek atonement for the sins of their fathers, he also asked them to acknowledge the sins of today.
"I recognize you didn't live then, but you live now. We are the body of Christ now," Shaffer said.
Looking over at his fellow pastor and friend, Shaffer said, "I don't know what he walks through. I don't know what it was like to grow up as African American in a primarily white community and school. I don't know. I don't even want to act like I know. All I want to do is listen."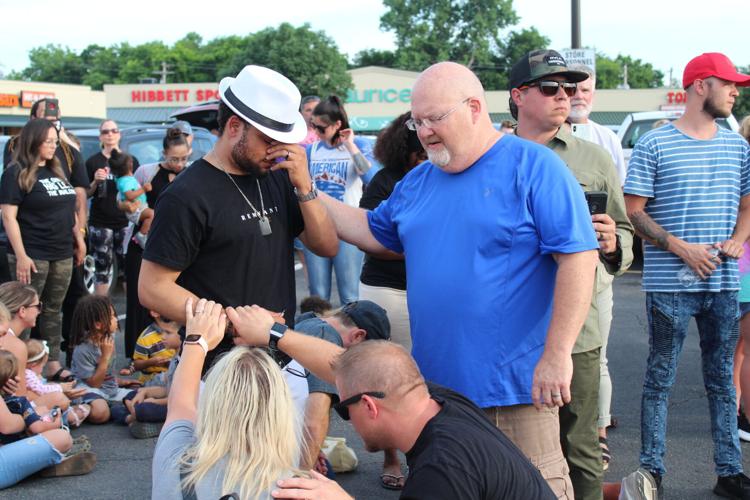 Bowing his own head in prayer, Shaffer said, "Lord, I ask you to forgive us for our words. I ask you to forgive us for our jokes. I ask you to forgive us for our glances. I ask you to forgive us for our ignorance. I ask you to forgive us for our anger, rising at the wrong time and in the wrong way. I ask you for our pre-judging a young African American man who may walk around us, or a young lady."
"Lord I ask you that your Kingdom culture may so invade Claremore, that this would be a safe haven. I ask you to forgive us for every curse that has been spoken in this city from the mouths of some against other minorities. Forgive us, oh God, and the sins of our fathers," Shaffer said.
Shaffer paused and asked white members of the audience to turn and face the people of color who were present.
Through tears, Shaffer prayed, "Father, in representation of the history of this city, we recognize that we are a product of our own history. Lord, it's been easy in these small towns to ignore the cry of the minorities. It's been easy. It's been easy to drive past it because the percentages are so low."
"Forgive us for not being aware of your creation. Forgive us for pride. Forgive us, oh God, for those words spoken and acts done in those areas of hate. We pray for the city where there was transgressions against the African American community," Shaffer said. "We pray, Father, for there to be repentance in the heart of the church in this city."
Shaffer asked Oakley directly, as a representative of White men to a representative of Black men, for forgiveness.
Then, turning back to the crowd, Shaffer said, "Let the Christians be bold enough to stand and say the atrocities such as what was against George Floyd would be declared as wrong. It was not right, and it was hurtful, and it was damaging."
Oakley took the mic and expressed his own sincere forgiveness and appreciation.
Calling his sons up to him, Oakley said, "On the way here I tried to briefly explain what is going on to my 7-year old, and I realized that his mind has no way of understanding racism. He was not able to fathom why we would hate one another because of skin."
"I can't force him to try to understand it," Oakley said. "What it proves is that you can't understand it."
"Tonight is not about those who are present here. It's about the generations before us, and it's about a different world for them," he said, motioning too his oldest sons, who stood beside him.
Oakley expressed a deep-seeded hope that Tuesday's prayer rally for reconciliation would be the last one ever needed.
"Maybe he will never have to understand, because in Claremore, Oklahoma, on this day in 2020, we came together and did this," Oakley said. "We will be able to stand up, and they will be able to declare from photos taken on this night, that night changed something in the realm of the spirit, and we are living and walking in the fruit of something that broke, because you decided to show up tonight."
Oakley returned Shaffer's sentiment. As a representative of Black Men to a representative of White men, Oakley extended forgiveness.
"On behalf of the minorities, we fully receive the sincerity of heart and motive, and the repentance in this moment, as you represent the generations before you," Oakley said. "As we represent the generations, we declare that strongholds in this city will be officially broken in the mighty name of Jesus. We declare healing is flowing, and it is reaching throughout the generations today, in the might name of the Lord. We declare that freedom is breaking out, and we declare that the next generation in Claremore, Oklahoma, will have multiple races of leaders, multiple races in the police department, multiple race, and that we will be a diverse city that recognizes a moment of opportunity."
"In a time when there is pain, I hear the Lord saying 'Look for the opportunity to break chains, come together, and make Claremore Oklahoma step through this window of opportunity, that from this moment forth, we would never be the same,'" Oakley said.
Shaffer and Oakley were followed by Pastor Ted Estes of Lifechanger Church who prayed for humility and awareness; City Manager Jim Thomas who prayed for God's guidance and blessings upon local, state and federal government and the families of Claremore and Rogers County; and Claremore Police Department Chaplain Paul Simpson who, among other things, prayed for African American police officers in Claremore.
The prayers concluded in celebration, as people wrapped each other in hugs.
GALLERY: Claremore faithful hold Racial Reconiliation Rally