Shawn Weigel didn't have anything against the parking lot at Burger King. In fact, he says he only eats at the restaurant across the street from Mankato West High School maybe a couple of times a year.
But when he saw a pair of Facebook pages dedicated to its pothole situation — one is called "Burger King Mankato Please Fix Your Parking Lot," and the other is called "Burger King Mankato Please Don't Fix Your Parking Lot" — Weigel figured he could have a little fun with it.
Like many parking lots, Burger King's has seen better days. Not judging that; just pointing out what, to many hungry burger eaters, is an obvious fact. It's got some doozies. (But this is Minnesota, you guys. Cut them some slack.)
So on a clear night, Weigel — who happens to be a professional photographer — hauled his camera out to the lot and began doing what he does best: shooting photos. And then, well ...
"I took a picture and it just blew up," Weigel said this week while standing in the parking lot in question. "Everybody loved it. It got 300-plus shares."
The photo is a beautifully lit image with the pothole in the foreground — which is filled with a collection of bricks, gravel and rocks; it's the best they could do, really — and Burger King in the background. At the top of the image, the restaurant's slogan, "Home of the Whopper," seems to be hawking hamburgers and describing the potholes.
Online comments associated with his photo contained a litany of other "whoppers" around town. That gave Weigel an idea: He'd document any parking lot pothole he could find with his camera and a dash of creativity.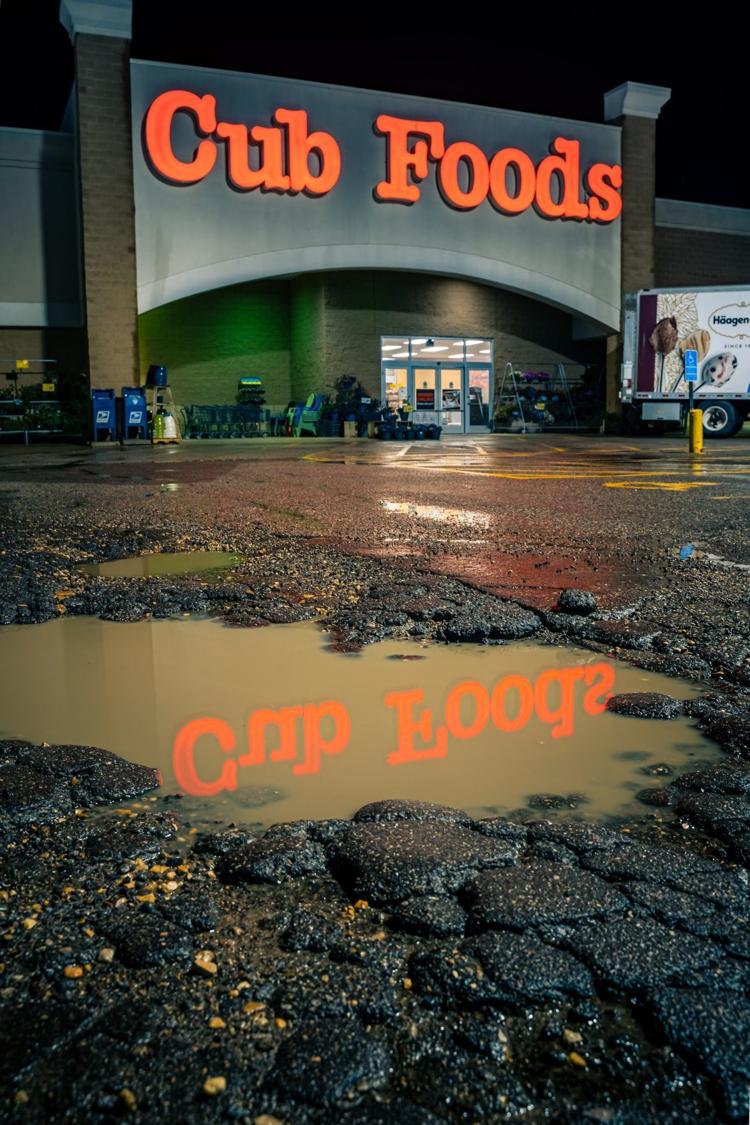 The result is a wondrous collection of photographs that, rumor has it, he'll be compiling into a calendar.
His first stop after Burger King was the next store down the street: Cub Foods. The store's reddish-orange letters are reflected perfectly in the pothole puddle he found just a few feet from the store's front door.
"That one got a 100-plus shares," he said. "I thought, 'Maybe I found my new market.'"
The Facebook Page for his photography business, 38th Street Photography, has grown by 4,000 followers since he began the series. That many more followers probably wouldn't be interested in just potholes. Which is why it's important to note that it's what Weigel does with the potholes that makes the images so interesting.
In addition to being impeccably composed and lit, Weigel uses props to turn every image into a story.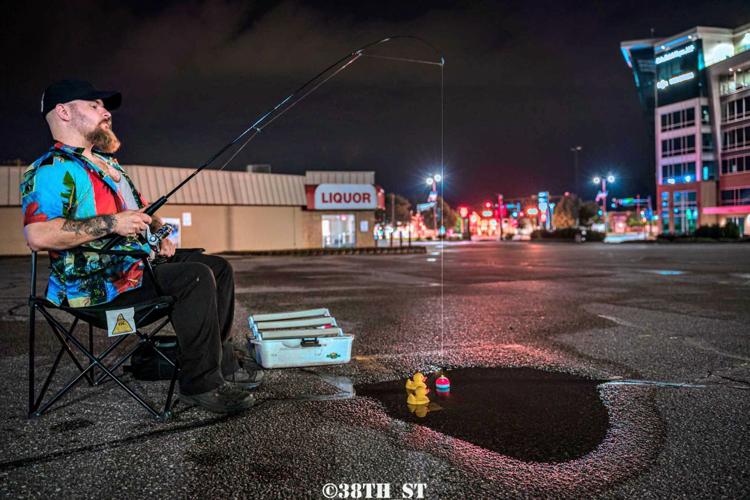 In one image, a recruited buddy is cooking with a grill and using the pothole as a cooler for a few cans of Grain Belt Nordeast. In another, Weigel himself is in a lawn chair holding a fishing pole; the bobber in the pothole waits patiently for a fish to come by. Some of them use Barbie dolls, such as the beach scene, the Mettler's scene (we'll let you check that out for yourself), and the recently posted image showing what looks like a passed out Ken doll holding a bottle of Jagermeister. One pothole is filled with Froot-Loops. Another shows Woody from the the "Toy Story" franchise along with a group of rubber ducks floating around. One shows Buddha, presumably meditating. Another shows a pretty flower growing from a pothole with water from a tipped watering can giving it a night-time drink.
People, it seems, are impressed. And Weigel thinks he knows why.
"Mankato likes different," he said. "They like different kinds of art, it doesn't really matter what it is. They just like different. And if I can prove I can do something different I can do pretty well."
People continue to send him ideas for new potholes, and he'll continue to make new images.
But there is one thing he won't do.
"I won't do streets because I don't want the political agenda on my page," he said. "Streets are government. If I start doing streets, you'll get people that will start complaining. Why isn't this fixed? Why isn't this fixed. Parking lots are privately owned."
Robb Murray is features editor at The Free Press of Mankato, Minnesota.