CENTERVILLE, Iowa — Baseball players at an Iowa community college say their coaches gave foreign players false identities so they could work to support the baseball program in violation of their student visas.
The players reported Indian Hills Community College head baseball coach Cam Walker and assistant coach Steve Kletke to school authorities in March. They also said the coaches created a "fear culture" that included physical punishment.
Shortly thereafter, the two coaches were let go. Indian Hills officials deny the men were fired, saying only that their contracts were not renewed.
The players involved say the coaches were let go due to the investigation into misconduct.
Experts say that, if true, the actions could threaten the players' immigration status and expose both the school and players to criminal charges from the U.S. immigration authorities and others.
The athletes say that Walker and Kletke provided false names to foreign players so they could work for security companies at off-campus athletic events such as the Iowa Hawkeye football games.
The security companies, in turn, normally contributed money to the baseball program, an investigation by the Daily Iowegian determined.
Financial records obtained for the past two school years show deposits made by two of those companies to Indian Hills baseball program. In the most recent school year, the baseball team's account received $26,162.60 from Stadium Fund Raising Group, Inc. The previous year, the baseball team received $37,503.30 from Whelan Security and $15,900.30 from Stadium Fund Raising Group.
The foreign players held student visas to study at Indian Hills, but they were not eligible to work off-campus under U.S. Immigration law restrictions.
They were given aliases of former players and members of Walker's family. A list of such aliases for each player was posted before the events, according to the players and documentation they provided.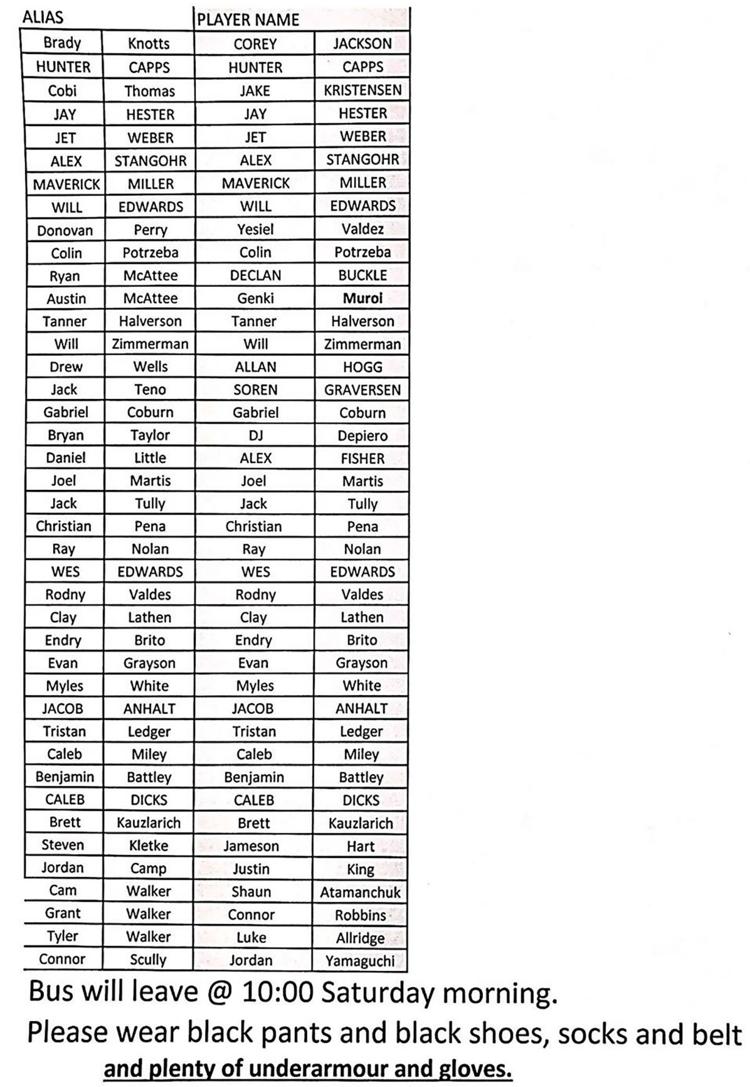 A key concern is the potential that the security details constitute a violation of their student-visas, with penalties up to deportation possible if authorities investigate and determine it to be a violation.
Immigration experts told the Daily Iowegian the practice is within a gray area, but the use of false names makes the practice look less innocent.
"Whoever thought this scheme up, in my view, has a serious problem," said David Leopold, an immigration attorney in Cleveland, Ohio and the former president of the American Immigration Lawyers Association.
"[They have] potential exposure to criminal charges," he said.
"What kind of a school puts students in a criminal situation?" Leopold said. "What kind of school does this? … The victims here seem to be the students."
The Daily Iowegian reported the allegations Wednesday, citing five former players. Colin Potrzeba, of Omaha, Nebraska, and Endry Brito, of Oranjestad, Aruba, were two of five baseball players who spoke with the paper. Three others asked for anonymity for fear of affecting their future careers.
Indian Hills President Marlene Sprouse and other college officials declined to comment on the allegations of misconduct. They said Walker and Kletke were not fired nor did they resign, but that their contracts were not renewed. Both coaches declined to be interviewed for this story.
The newspaper made more than two dozen requests for public information regarding the issue, but the university declined to release the investigative file even though Iowa law allows it to use its discretion to release such reports.
The players who spoke with the paper said coaches required them to work security details at the University of Iowa and Minnesota Vikings NFL games the last two seasons under an arrangement with a group fundraising program.
Potrzeba said he discussed his experience with the college officials for roughly three hours, referring to notes he'd compiled with the help of other players. He said college officials made copies of the notes.
"I basically just told them everything that had gone on," said Potrzeba. "And they were like, 'This isn't going to be a two-week fix, you know. This is going to take some time for us to take action with it.'"
Last year the players worked for Contemporary Services Corporation (CSC), a security and crowd control company. There was no record of funds from CSC to Indian Hills.
James Service, vice president and general counsel for CSC, said the company had "no comment at this time."
One player described the baseball program to the Daily Iowegian as a "fear culture." Another likened the program to the Guantánamo Bay Cuba prison for holding terrorist suspects. Potrzeba said it was like an underground concentration camp. Most players who spoke to the Daily Iowegian said they were glad it's over.
Players recalled a practice inside the team's indoor multi-use practice facility when players were running laps, and one of them spit on the turf, causing coach Kletke to launch into a tirade.
They said the coaches imposed physical punishment for certain things. One example given was batters moving away from close pitches instead of letting the balls hit them. Players reported the coaching staff would tally these up, then every few weeks the entire team would have to do partner drags for each one.
Partner drags, similar to a bear crawl, involved two players, according to players who spoke to the Daily Iowegian. One player would get in a push-up position while another player lay below, wrapping their hands around the first player's neck. The first player then would bear crawl with that player's weight over a distance. The crawl would be repeated for every time a player had dodged a pitch in the batter's box.
Potrzeba said the punishment gave him a hernia. "I felt a sharp pain in my abdomen and I stopped," he said. "When I went to the hospital they said I had a hernia."
Potrzeba was told to take two months off for recovery. He said three weeks into that recovery, Kletke began harassing him, telling him he was soft. Potrzeba ended up coming back early.
At a doctor's visit in August, Potrzeba said, he still had remnants of the injury nearly a year later.
The Indian Hills baseball team had a strong season in 2018, compiling a 36-22 record and coming within two wins of a regional championship. Walker had just completed his 26th season as a head coach of the program, and is in the National Junior College Athletic Association Hall of Fame. Kletke had finished his second year as an assistant.
Kyle Ocker is the editor of the Centerville Daily Iowegian and Colin Peters is a sports writer.