As veteran school teachers approach retirement age, they tend to discuss how they have taught multiple generations of a particular family.
Jon Court, at age 58 and set to become the oldest jockey to ride in the Kentucky Derby, can do the same when it comes to competing against jockeys.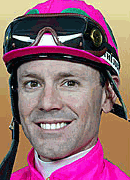 Court, who will ride Long Range Toddy out of post 17, will be joined in the starting gates by 24-year-old Tyler Gaffalione. Court rode alongside Tyler's father Steve Gaffalione and his grandfather Robert Gaffalione.
"It's one thing when I started riding with the sons of my fellow competitors. People bring that up and I like to correct them in a comical gesture and say, now I'm riding with the grandsons. It's fun," Court said.
Since 1980, Court has started 33,948 races, with 4,148 wins. He credits a disciplined lifestyle in terms of exercise and nutrition, a lifestyle he inherited from his parents. His mother Pam Court was a registered nurse.
"She was able to be awakened by people's lifestyles. She realized that you had to be cognizant of your lifestyle. She made us drink things that taste terrible, but in the long run, it paid dividends. We always did something physical. Swimming, baseball, football, since I was small. I did ballet, which is something I still include."
One of Court's biggest fans is his son Justin, who makes his home right outside Louisville. Justin had dreams of following in his father's footsteps as a jockey but outgrew those dreams. He's instead stayed involved with horses as a farrier, crafting horseshoes for a wide variety of horses.
Justin was also inspired by his father's discipline in fitness and has become an international player in Brazilian Jiu-Jitsu.
"He holds himself accountable. That's one thing I admire about him," Justin said. "That's with everything. It's his discipline. He eats real clean. It shows. Riding and whipping and correcting the horse. All of the jockeys make a hard job look easy. The amount of intestinal fortitude that he's had has really been a staple in my life for the things I've pursued."
Jon is proud of his son's accomplishments.
"He'd have been a great jock," Jon Court said. "I created a beast. I got him into sports. He was naturally interested. I got him into martial arts when other sports weren't available. I thought one day he'd be a professional baseball player. He was on a team that won state for the first time."
Jon reached great heights as a jockey in 2007 as the George Woolf Memorial Jockey Award winner given to a jockey who demonstrates high standards of personal and professional conduct, on and off the racetrack.
One example of that? Jon and Justin volunteered to speak to teenagers several years ago in New Albany at Redeem the Dream, an organization that provides support for at-risk teenagers.
"We spoke about keeping goals in front of you and trusting the Lord. Find good groups to plug into. Create principals. Set standards for yourself. They're important in the direction of life you'll end up with. We all like to splurge, but you have to set standards within yourself."
For Jon, a win at the Kentucky Derby would be the pinnacle. His best Derby finish was eighth in 2013 with Will Take Charge, which came a year after taking 11th on Optimizer in 2012.
Long Range Toddy's Hall of Fame trainer, Steve Asmussen would love to see Court in the winner's circle.
"That would be a beautiful thing," Asmussen said. "Jon gave him such a dream trip in the Rebel. Hopefully, we can recapture some of that magic Saturday. Hopefully, we'll have a fast track like we had [Monday] morning. At this time of the year, the 3-year-olds have to step up. He stepped up big time in the Rebel and hopefully can continue to improve. He'll need to put up the race of a lifetime in the Derby."
Long Range Toddy will be near the outside at the start in post 17.
"He's looking beautiful. He's a smart horse. He's intelligent," Jon said. "Regardless of the post, you need a good trip. Everyone comments and wants to avoid the inside. The outside can be critical because you're hung outside and you'll be pressed to navigate a better position. Anywhere, you need an efficient energy trip."