VALDOSTA, Ga. –– As concerns about how to best protect football players from concussions and long-term brain injuries has grown, experts say a new helmet designed to reduce impact might be the answer.
This spring, Valdosta High School in southern Georgia, home to the winningest high school football program in the United States, decided to take a chance on the Guardian Cap, which has been generating buzz around the country.
The Guardian Cap is a soft-shell helmet cover designed for impact reduction, and according to information provided by Guardian Innovations, more than 50,000 caps have been used on the field across youth leagues, high schools and colleges over the past four years.
Valdosta head coach Alan Rodemaker said the helmets have been around for some time, but they had never had the budget to get them.
"If I could put a bubble around our kids and have them go out there and play and never get hurt, that'd be my choice," Rodemaker said. "But this is the best we can do."
The Guardian Caps are worn over a player's usual helmet with four elastic straps connecting the soft shell to the face mask. The makers claim it reduces the impact of hits by up to 33 percent by decreasing the linear acceleration of the hit, but doesn't affect the integrity of the helmet.
In recent years, players, coaches and parents have expressed increased concern about potential brain injuries associated with playing football. That conversation has ramped up in light of a study published July 25 by researchers at Boston University.
According to the study, which looked at a convenience sample of 202 brains from deceased football players across all levels of play, the degenerative disease chronic traumatic encephalopathy (CTE) was diagnosed in 177 of the players, including 110 of the 111 brains belonging to former NFL players.
CTE was diagnosed in three of the 14 brains (21 percent) belonging to high-school players. The study doesn't prove a direct link between participation in football and development of CTE, but the researchers conclude CTE may be related to prior participation in the sport.
The Guardian Cap was developed by Guardian Innovations and their parent company, The Hanson Group, a company with nearly two decades of engineering and material science expertise.
The makers of the Guardian Cap are hoping to reduce those risks.
"Our son was starting to play football and we just knew the helmet, we felt, would be better served not being a hard-shell weapon," said Erin Hanson, one of the company's co-founders. "And if we could take some of that impact off, at the minimum at practice, that we would be serving the players better."
Still, Guardian Caps tells its customers the product cannot reduce or prevent concussions, contending no helmet, pad or practice apparatus can.
"We do not say that, because the science just isn't there yet," Hanson said.
John Lloyd, a biomechanist and researcher, claims helmet add-ons tend to focus on reducing linear acceleration, which he admits they're successful in doing, but some sports injury experts say linear acceleration is less linked to concussions than angular acceleration is.
On the other hand, Dr. Ben Hogan, a physician specializing in sports medicine and the medical director of Valdosta State University's athletic training education program, believes the true mechanisms behind a concussion are still relatively unknown to medical experts.
"This is an evolving science, and of course the prevention and treatment of it is evolving as well," Hogan said.
The coaches at Valdosta aren't concerned with experimental results, though. They're just looking for a way to protect their players, and so far they've said the Guardian Cap has done just that.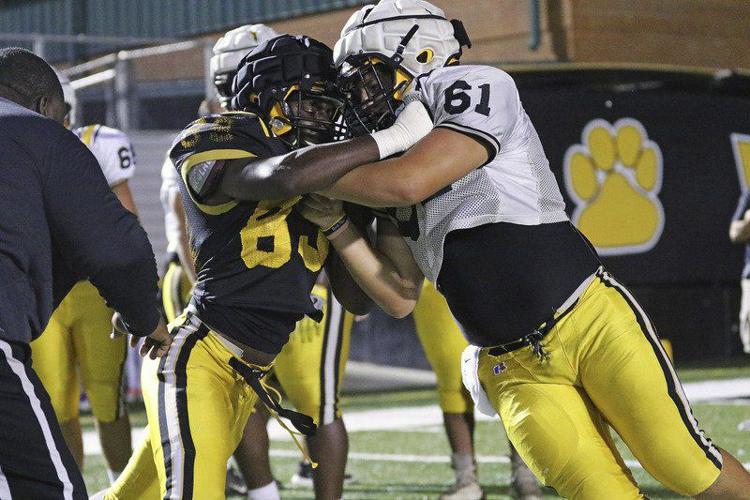 Since ordering the Guardian Caps this spring, only one Valdosta player has suffered a concussion and he wasn't wearing one of Valdosta's 50 available caps.
"I would say they've already made a significant improvement to what we're doing," Rodemaker said Wednesday. "My plan is to just buy more next year. I'd love to put all of them in it."
The National Federation of State High School Associations has permitted the use of Guardian Caps for both practices and games, but ultimately left it up to the individual states to make the final call.
And it may not be long until similar technology is being used in the NFL.
The NFL has put aside $60 million for "HeadHealthTech Challenge" that encouraged companies nationwide from mom-and-pop starters to commercial businesses to submit proposals for improvements in football protective equipment. Guardian applied for the opportunity to gain access to the mentorship and research the program offered, and was one of two selected, along with VyaTek Sports.
Davis writes for the Valdosta, Georgia Daily Times.