STILLWATER, Oklahoma – The staff at Oklahoma State University's College of Veterinary Medicine recently got a second chance to give a dog with a rare limb deformity a better life.
In 2019, Dr. Erik Clary performed corrective surgery on the front legs of Milo, a hound puppy born with his paws flipped upside-down and would likely have been euthanized if he hadn't found people willing to invest time, care and money in him. The story took on a life of its own, spreading across the U.S. and into international news.
Clary credits that publicity for recently guiding Siggi, a rat terrier puppy with the same condition, to OSU for treatment. He says the exposure from sharing Milo's story helped educate people in other places, allowing them to see that there is hope for puppies with this problem.
Siggi made the trip to Stillwater in May at 13 weeks of age, but getting the surgery even younger – around 8 weeks, if possible – is better, he said.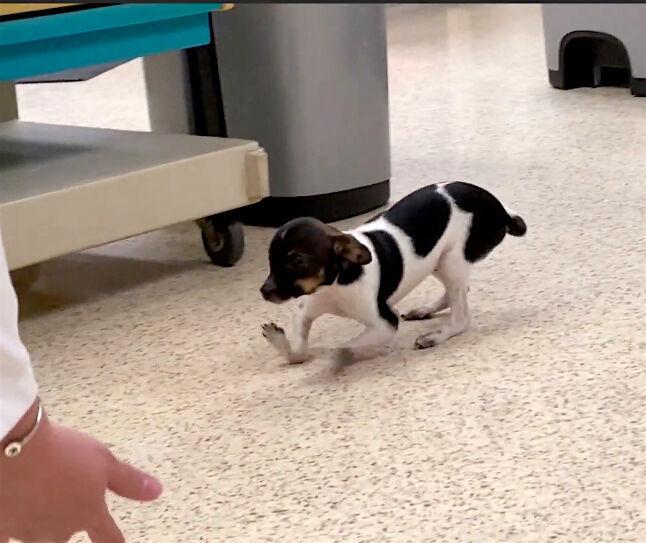 Dogs with her condition are not able to walk and deal with discomfort as they find ways to move that aren't well-suited to a dog's life, Clary said. She got around by "army crawling" when she wanted to get somewhere fast, but had already worn all the hair off her wrists.
Someone associated with Dallas Dogs RRR, the rescue caring for her, searched the internet for information on her condition and found stories about Milo, which led them to OSU and Clary.
In a May social media post, Dallas Dogs RRR were thrilled when OSU Vet Med accepted Siggi as a client. 
"Siggi is a trooper who doesn't know anything is wrong with her. She romps around with her siblings and tries to do everything they do, army-crawl style that is! Although this is heartwarming to see, it's taking a major toll on her elbows, shoulders, and spine," the post read.
In 2019, Clary said vets don't often get the chance to see puppies like Milo. It's hard to even know how common the structural defect is because they fly under the radar. Breeders would tend to euthanize them because they can't be sold.
Although the paws are flipped, it's caused by a structural problem within the leg that starts with the elbow, he explained. At some point before the puppy is born or shortly afterward, the elbow comes out of its joint. The result can be a lower leg that rotates up to 180 degrees.
Treating Siggi, whose paws had done a full 180, was an opportunity not just for Clary, but for his veterinary students.
He happens to be teaching a clinical anatomy course this semester that deals with abnormal anatomy and Siggi gave them a real-world example as he led them through a discussion of the condition.
She had a significant deformity of the bones in her lower leg and the doctors treating had to plan a more complex procedure than Milo had required.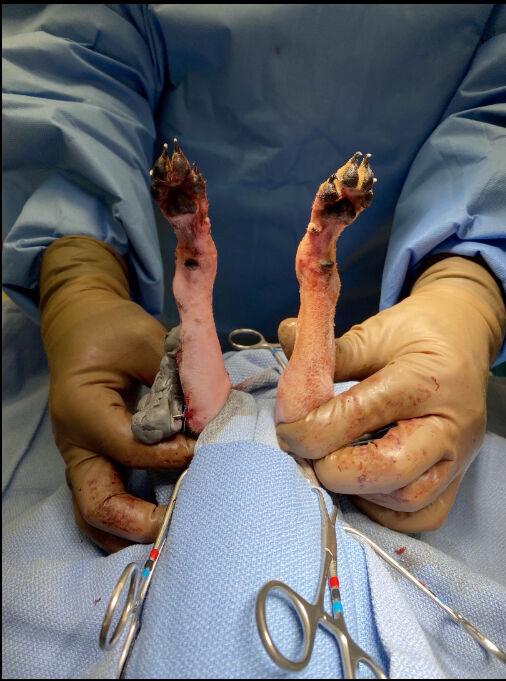 Clary said they had to intentionally break her ulna bones and realign them to straighten the limb. She then had to be placed in splints and a device to keep her legs in a fixed position while they healed.
Her surgery took place on May 12 and she returned for a check-up June 29.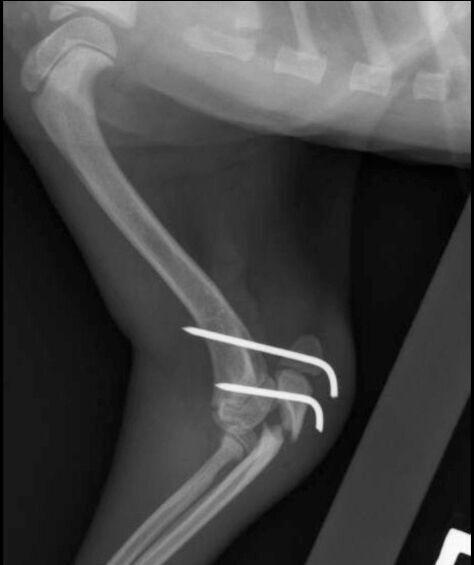 "With that checkup we confirmed the bone healing with X-ray exam and then removed Siggi's splint for good," Clary said. "At that stage, the task then became one of teaching her how to walk and she proved a fairly quick learner. Lorraine, her medical foster with Dallas Dog RRR, did a fabulous job implementing an incremental rehabilitation regimen that now has Siggi doing many things that puppies like to do, including chasing a ball in the yard."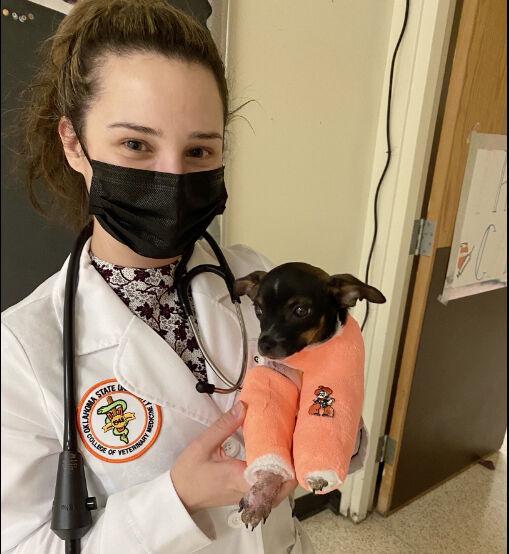 A few weeks after treating Siggi, a third pup with rotated paws was brought to OSU.
Clary jokes that he's not sure he wants OSU to become known as the center for treating this type of condition because it's a lot of work. But he says he is gratified by being able to improve the quality of life for animals who wouldn't have otherwise had much of a chance.