New York's Buffalo area braced for another pelting of heavy snow Wednesday night, with the National Weather Service warning those who had to be out on the roads to "carry a survival kit."
An extreme lake-effect storm had already dumped as much as 65 inches of snow - more than five feet - just south of Buffalo, claiming seven lives across the region and trapping hundreds of people in their homes and cars, then trapping the ambulances and emergency vehicles trying to help them. And the monster storm isn't over yet.
Officials are bracing for as many as two additional feet of snow in some portions of the Buffalo area Thursday, meaning accumulations could rival the deepest snowfall on record in Buffalo, 81.6 inches in 2001, or about seven feet.
"This is an historic event. When all is said and done, this snowstorm will break all sorts of records, and that's saying something in Buffalo," Gov. Andrew Cuomo said during a visit to the city, according to the Associated Press.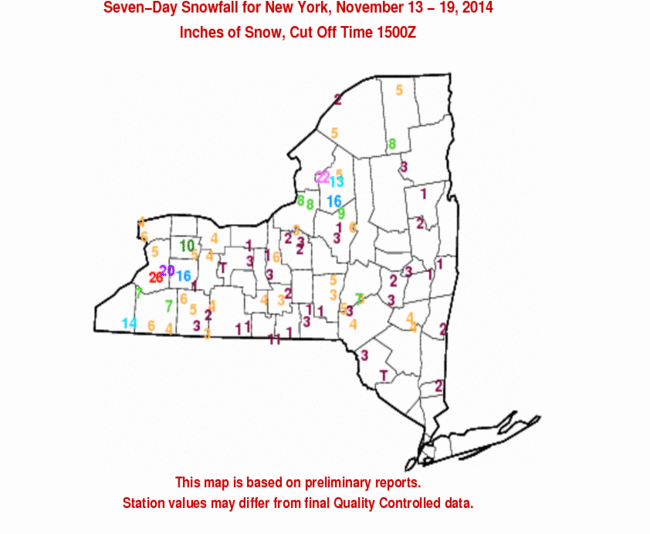 A spokesman for the Buffalo Bills, Scott Berchtold, told the AP that the National Football League team has an estimated 220,000 tons of snow to remove from Ralph Wilson Stadium before Sunday's 1 p.m. game against the New York Jets.
Where the snow fell hardest and fastest - as much as four inches an hour in spots - many drivers were taken by surprise.
Hundreds abandoned cars in their tire tracks, and officials struggled to free trapped motorists all day and night Tuesday and Wednesday. A bus carrying the Niagara University women's basketball team was stuck on Interstate 90 for more than 24 hours.
"It was a little scary," Emily Granruth, a 19-year-old guard for the team, said in an overnight telephone call from the bus. "We didn't know what was going on."
The bus was eventually freed, and the team resumed its ride home Wednesday morning.
The wall of snow left wildly varying snow totals across the region: one side of Cheektowaga, New York, had at least 51 inches of snow Tuesday; the other side of town recorded just two inches. A mere 10-minute drive north into Buffalo, the sun peeked through the clouds as spectators watched the wall of snow engulf their neighbors to the south.
According to The Buffalo News, two people died while trying to shovel their way out of the heavy snow, possibly from heart problems. A 46-year-old man was found dead in his car, which was buried in snow, and another person was killed when he was pinned while attempting to free a vehicle that was stuck in the snow, according to the NBC affiliate, WGRZ.
Another person died under unspecified circumstances, also from a heart problem.
Cuomo has deployed the National Guard to the area to assist with emergency operations. Several major roads, including Interstate 90, remained closed Wednesday night.
As many as 140 cars were stranded overnight Tuesday on a single stretch of the highway, WKBW reported.
Salvatore Durante and his teenage daughter were trapped on the highway while driving back from the Buffalo airport on Tuesday morning.
Speaking to WIVB several hours later, Durante said: "We weren't prepared, obviously, because we were driving back from the airport. We had no water or anything to eat. The trucker next to us, bless his heart, gave us four bottles of water, which we are almost done with, and a bag of peanuts and a little package of peanut butter crackers.
"I run the car every half-hour for about 20 minutes. I go outside, and I'm not dressed for it, so my pants and socks and shoes are soaked. I go out to the back of the car and with my hands, I dig out holes and little caves, if you will, for the exhaust pipe so we don't die of carbon monoxide poisoning," he said.
But not all the news was bad. Stories of good Samaritans gave the brutal storm a silver lining.
Bethany Hojnacki gave birth at a firehouse when she couldn't reach the hospital. She and her husband had stopped to help another trapped driver, who happened to be a pediatric nurse, according to WVIB.
The baby, Lucy Hojnacki, was delivered Tuesday evening - by the nurse. Mom and Dad gave the infant the middle name of Grace.