1. The ever-charismatic Jim Cantore looked and sounded more like a WWE wrestler than a Weather Channel meteorologist Sunday night. 
The Weather Channel released a montage of Cantore repeatedly flipping his lid upon witnessing a total of six loud claps of thundersnow in the stormy skies over Massachusetts. 
"You can have your $500 million jackpot in Powerball or whatever the heck it was, but I'll take this baby," Cantore bellowed into the blizzard. And that was when the count was only up to four. 
---
2. Your mind can't help but go there.
"We thought we were maybe in the middle of a bad Samuel L. Jackson movie," said Wayne Tinkle, head coach of the Oregon State University men's basketball team. 
But no, it wasn't Snakes on a Plane -- it was scorpions. Or at least one scorpion.
The air-traveling arachnid crawled onto the shoulder of a male passenger boarding the same Alaska Airlines flight Tinkle's team was taking from Los Angeles to Portland before being flicked onto, and stinging, a female passenger's hand.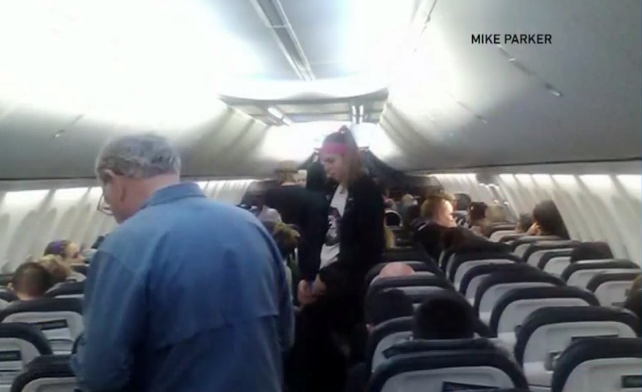 Alaska Airlines officials theorize that the scorpion, which was promptly stomped to death, was a stowaway from Mexico, where the flight originated.
"The woman was a real champ. She acted like it was a mosquito bite. They got it off her but the needle was stuck," Tinkle told ESPN. 
Somehow, the "real champ" isn't the first Alaska Airlines passenger to be stung by a scorpion while flying the friendly skies. The same thing happened to a man in 2011. 
---
3. A natural, un-retouched Cindy Crawford is being hailed as a super model for real women everywhere thanks to a year-old photo recently leaked on Twitter.
Part of a 2013 photo spread for the Mexican edition of Marie Claire magazine, the photo shows a lingerie-clad Crawford revealing a body far less toned than what the iconic cover girl is known for.
Cindy Crawford's April spread in Marie Claire features 100% non-retouched photos. Take a bow Ms. C. pic.twitter.com/ttQz2BcRfg

— Charlene White (@CharleneWhite) February 13, 2015
However, the accompanying rumor that claims Crawford, who turns 49 this week, insisted the photo be included in an upcoming issue of Marie Claire as a statement in support of positive body image isn't exactly true. Of the photo, Marie Claire posted the following via its website:
"An un-retouched photo of Cindy Crawford has been circulating on Twitter this morning, revealing a body that defies expectations—it is real, it is honest, and it is gorgeous," the magazine said in a statement posted on its website. "No matter where the photo came from, it's an enlightenment—we've always known Crawford was beautiful, but seeing her like this only makes us love her more. And as she told us at the premiere of her new documentary last week: 'I really think—at any age—it's learning to be comfortable in your own skin. ...If women would treat themselves with the same kind of love they give to their friends, that would be such a great gift we could give ourselves. ...What makes you the most attractive is self-confidence. That's what people see.'"