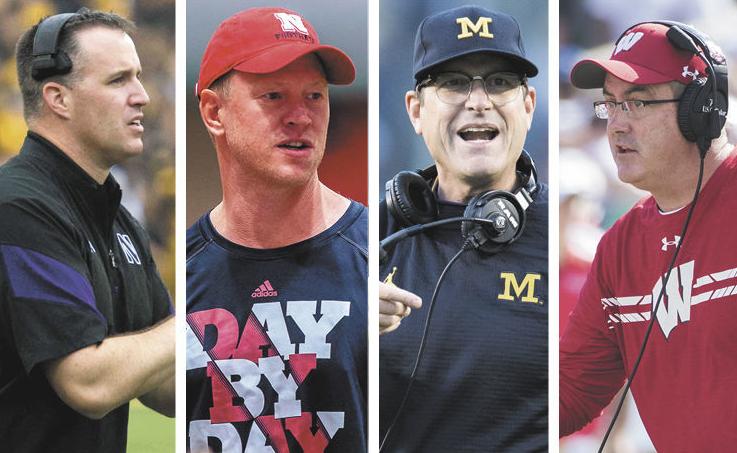 When first-year Nebraska coach Scott Frost arrived in the Big Ten, he invited recruits and their families into his office to talk about the program. He began to notice a worrisome trend.
"The parents all remember Nebraska as Nebraska," Frost said. "A lot of the kids don't remember that."
While it's been five seasons since the Huskers finished a season ranked in the top 25, Frost doesn't need to dig far in his memory bank to call up the Huskers' best years. He didn't just watch the glory days. He lived them. As a dual-threat quarterback, Frost led the Cornhuskers to the 1997 National Championship. Now, after stops at Kansas State, Northern Iowa, Oregon and UCF, he's returned to his alma mater in an attempt to repeat history as a coach.
His path back to his alma mater is a common one in the Big Ten. Wisconsin coach Paul Chryst was a three-year letterwinner and quarterback for the Badgers in the late 1980s. Michigan coach Jim Harbaugh led the Wolverines to the Rose Bowl in the 1986-87 season. Northwestern coach Pat Fitzgerald was a fierce linebacker who led the Wildcats to a 1996 Rose Bowl berth.
In total, four conference coaches now lead their alma maters. In addition to those four, Indiana coach Tom Allen, Ohio State coach Urban Meyer and Penn State coach James Franklin are all coaching in their home state, giving the conference a distinct home-cooked flavor.
They don't just wear the school colors. They're ingrained into their moral fabric.
"From a pride standpoint, no doubt it means more," Fitzgerald said. "I've walked the halls. I've slept in the dorms. I never got thrown out of the bars, but some guys may have. So with your players, you can relate a little bit more. It gives you a leg up in trust. And you've got institutional knowledge about deans and professors and those who touch the program. Some of our professors, I took classes from."
This identity mirrors perfectly with what college football fans already experience. They aren't just rooting for a team. They're rooting for their team. The school where they were educated. The town where memories were made. The university that shaped them into the person they are today.
"Being a football coach is rewarding because of the time you get to spend with young men and the things you get to try to pour into them," Frost said. "It's even more special to do it around people you care about and the place you're from and at your alma mater."
Many coaches have tried – with mixed results – to recreate their glory days. Harbaugh has gone 28-11 in his first three seasons with three bowl appearances. Chryst is 34-7 with three straight bowl wins. Fitzgerald took his Wildcats from a four-win season in 2006 all the way to a 10-3 record last year.
Now, as the college football season rapidly approaches, these coaches will try to write new chapters in their programs' storied histories. And, who knows, maybe there will be a player on their team who will one day follow in their footsteps.
---

---